Thanks to Market Authority for the following guest post:
Will Bernanke Play Santa Again
Presented by Nick Santiago
Swing Trading Millionaire
This morning, the major stock indexes are all trading sharply higher at the start of the trading day. Everything looks great in the stock market on the surface. The highly followed Dow Jones Industrial Average is trading higher today by 86.00 points in the first thirty minutes of the session. Many traders and investors seem to be betting on another inflationary push by Ben Bernanke who will be announcing his latest policy statement tomorrow. 
You see, the Federal Open Market Committee (FOMC) starts a two day meeting today. Tomorrow afternoon, the Federal Reserve will announce it's interest rate policy for the United States. Chairman Bernanke will also hold a press conference tomorrow afternoon explaining his actions and taking questions from the press. Many institutional traders are now expecting the Federal Reserve to announce another stimulus program since it's current 'operation twist' program is scheduled to expire. This past September, the Federal Reserve announced it's latest quantitative easing (QE-3) program in which the Federal Reserve will purchase $40 billion worth of mortgage backed securities (MBS) a month. 
The fed funds rate which is overnight lending rate to the large banks such as J.P. Morgan Chase & Co (NYSE:JPM), Bank of America Corp (NYSE:BAC), Wells Fargo & Co (NYSE:WFC), and Citigroup Inc (NYSE:C) is at zero to a quarter percent. So there is really expectation that the fed funds rate will change tomorrow. The Federal Reserve has already promised that interest rates will remain extremely low until late 2015. While low rates are good for people looking for loans many people do not seem to qualify for loans any longer. So in reality, the savers in the United States seem to get punished as they will make basically zero interest by keeping their money in the bank. The fed funds rate has been at zero to a quarter percent since December 2008. 
A fair case can be made that Chairman Bernanke has bailed out the politicians as they continue to spend money at an alarming rate. The U.S. national debt is now at $16.2 trillion and climbing. President Obama now wants the debt ceiling removed before the fiscal cliff deal is settled. Every citizen in the United States would need to pay $51,967.00 in order to pay off the current U.S. debt. Gross domestic product (GDP) remains between 2.0 – 3.0 percent in the United States, This number is rather weak when you consider all of the government spending. According to the Mercatus Center at George Mason University about 49.0 percent of all Americans receive some form of government benefits. These are troubling numbers that could be problematic over the next couple of years. 
Traders should view this current stock rally as another inflation prayer by the financial institutions to the central bankers that control the money supply. Wall Street always loved a good inflation created stock rally. Lets see if Ben Bernanke will play Santa Claus to Wall Street and the politicians once again. Learn more about Swing Trading Millionaire...
On November 27, 2012, we addressed the best way to trade Molycorp (MCP) given the intense insider buying and news out of China.
In an attempt to prop up falling rare earth prices, some of China's biggest rare earth producers are suspending production and are stockpiling rare earths at much higher prices than market prices.
And it's sending prices soaring higher…
When you think of where your iPods, cell phones, computers and electronic motors come from, consider this: China holds 97% of the rare earth materials that allow these products to function.
All China has to do is halt the export of such materials, and we're screwed.
Near-term, we could see a pullback in shares as the news is fully disseminated, and priced in, we said. Longer-term, we could see higher prices as the United States struggles for some control of the much needed rare earth market.
With that, we recommended hedging MCP with the January 2013 9 puts and the January 2014 8 calls.  
Here's how the stock performed since that late November recommendation.  As you can see in the chart, we did get a pullback – a very slight, unnoticeable pullback in the days that followed our hedging instructions.
While the put side of our hedge is under water (and on hold), it's okay.  The call side of the hedge is rocketing higher making up for any loss on the put side.
Just why is Molycorp still running?
The company's Mountain Pass project is expected to reach its target of 19,050 metric tons by the end of the year.
Short positions are covering.
And the company's President and CEO is optimistic about the company's future, believing that concerns over China's mining operations have decreased.
$100 Million Trader is a Joke?
Presented by Market Authority
This is big news, and probably one of the single greatest opportunities you've ever come across in your trading career. 
Did you know that if a hedge fund manager admits he's managing $100 million to other Wall Street insiders, they think he's basically a joke?
It's true. We had a conversation with a pretty famous hedge fund manager one time. He was coming out of retirement to start a new fund and because he just started back after a decade of managing his own money, he only had about $100 million under management.
It embarrassed him to no end. He explained that you're not considered a serious player in the hedge fund world until you start pushing the billion dollar mark…
And you have to be damn good to trade that amount of money.
Have you ever wondered where billion dollar hedge fund traders go when they want to improve their trading skills? Click here to learn more... 
Avoiding emerging markets generally, and China specifically, has been one of my more prescient market calls this year. I never believed in the hard landing scenario proffered by uber bear, Jim Chanos, for two seconds, betting instead that the Middle Kingdom would settle down to a more sedentary 6-7% GDP growth rate. Once a new government was installed in Beijing, the uptrend would resume.
My expectation was the new leadership, the first in ten years, would seek to ingratiate themselves with the masses by launching a series of new programs to stimulate the economy. After all, they don't have direct elections in China. These should feed into more positive economic reports in the coming year.
It now looks like that is exactly what we are getting. The last two months have seen an undeniable improvement in the data flow. There has been a dramatic ramp up in retail sales and industrial production. The private sector Purchasing Manager's Index has delivered three consecutive months of upticks. Oil and electricity demand have seen a sudden increase. Long dormant real estate is finally starting to catch a bid.
For the global investor, the implications of a China recovery are huge. For a start, you want to run out and buy every other quality emerging market out there, including Hong Kong (EWH), Taiwan (EWT), South Korea (EWY), Chile (EWC), Turkey (TUR), and Indonesia (IDX). Base metals do very well in these conditions, especially copper (CU), and producing companies like Freeport McMoRan (FCX). A reviving dragon will also create a nice push up for oil prices, which may explain its failure to break down over the past month.
The rebirth of China also solves the mystery of why the Australian dollar has been so strong. In the tumultuous October selloff you would have expected the currency down under to nosedive as well. It rose instead. In now looks like Ausie will trade tick-for-tick with the Chinese economy and tell the rest of the world to sod off. If there was any further proof needed that the land of Fosters, Penfolds, and Yalumba was a Chinese colony, this is it. Nationalists take note.
The stock markets have already sniffed as much. The Shanghai market just put in its best week in years, soaring some 5%. Hong Kong has been well ahead of the game, living in a bull market since June. You can also see this in the Chinese renminbi (CYB), which has been pushing through to new all time highs almost every day
Be careful not to rush out and buy the same Chinese names that did well in the last China boom, the big exports. The new plays will be centered around companies targeting domestic consumption, seeking to profit from the growth of the Chinese middle class. I'll get you the specific names and ticker symbols, once I have completed my research there. China has not exactly been at the top of my research pecking order until recently.
The return of the China trade does not look like a sure thing, yet. Much of the improvement relies on stepped up government spending. China's biggest customer, Europe, is still on life support. An American recession would certainly pee on their parade. But watch the data releases. This could be the big trade of 2013.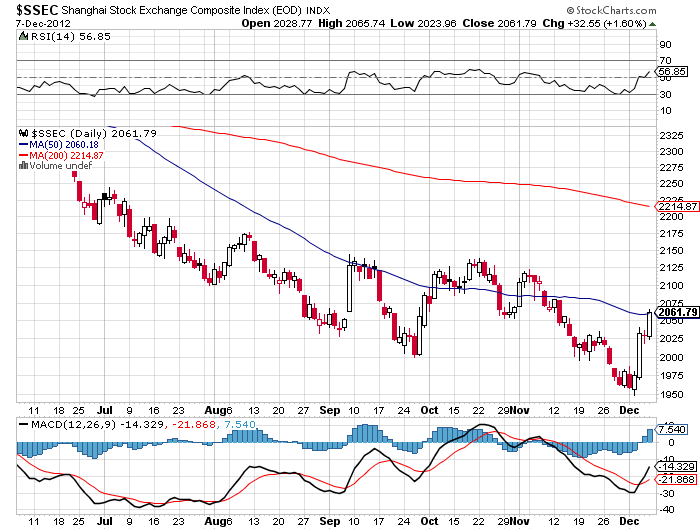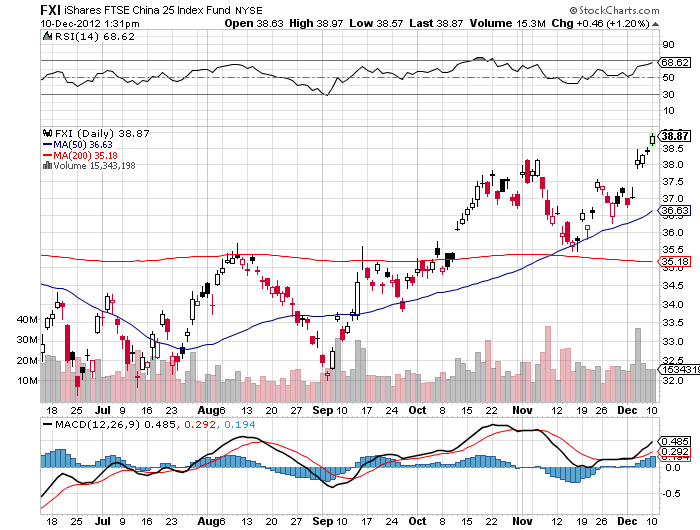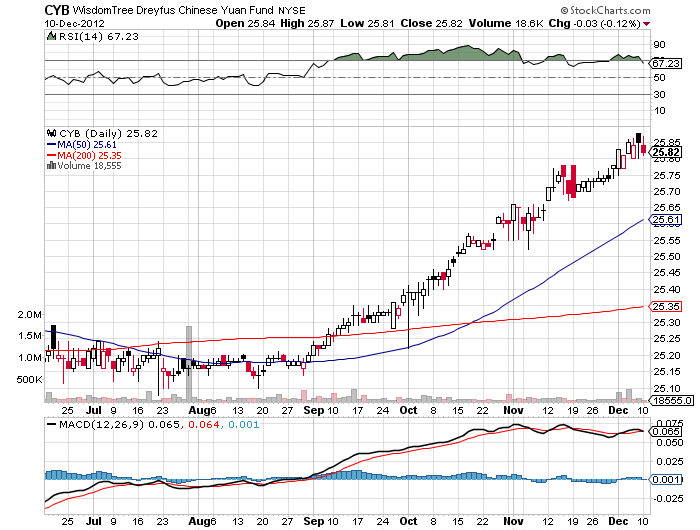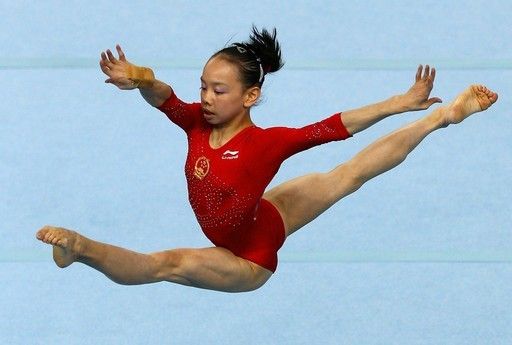 Is China Ready to Leap Ahead?
Priceline Stock Gets A Price Cut
Presented by Nick Santiago
Swing Trading Millionaire
This morning, leading online travel company Priceline.com Inc (NASDAQ:PCLN) is plunging lower by $26.86 to $632.24 a share. Earlier today, the stock was down graded by Deutsche Bank to hold from buy. The news is just one of the catalysts causing the leading online travel company to decline by more 4.0 percent on the trading day. Short term traders should watch for intra-day support around the $617.00 level should the stock fall further. The daily chart support level for PCLN stock will be around the $590.00 area. 
When a leading stock such as PCLN declines so sharply it will often cause other leading stock in its industry group to also be weak. Online travel stocks such as Expedia Inc (NASDAQ:EXPE), Travelzoo Inc (NASDAQ:TZOO), and Orbitz Worldwide Inc (NYSE:OWW) are all trading lower on the trading session. 
"There is growing evidence that China is starting to recover. If that happens, it is going to restart the entire global manufacturing cycle. Emerging markets have been the missing link for the entire year," said Jim Paulsen, chief investment strategist of Wells Capital Management.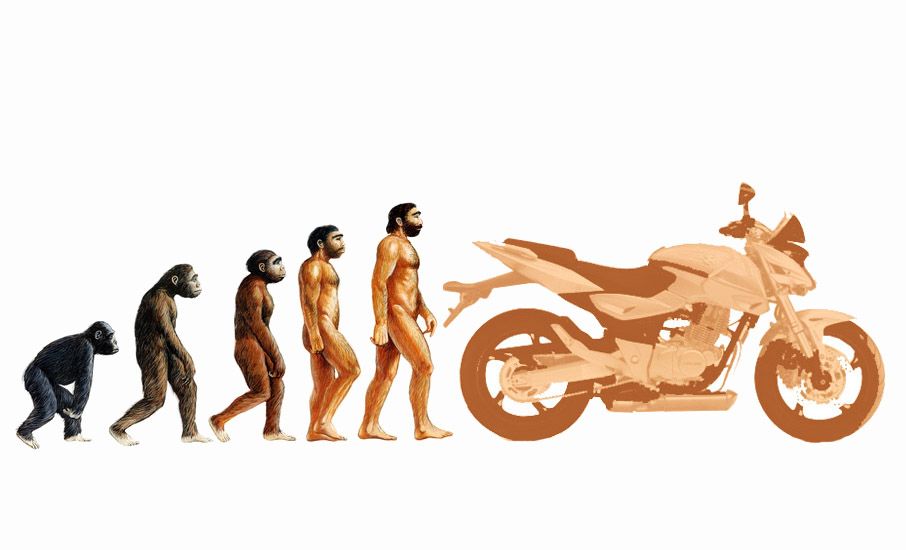 © 2012 Market Authority Inc. All Rights Reserved.
901 Rio Grande NW Suite D220A
Cheers,
The TradingPub
"Trade, Talk, Learn – Cheers to Success"
Get Daily Market Commentary – Subscribe to our YouTube Channel!
Risk Disclaimer: Past performance is not indicative of future results. Futures trading involves substantial financial risk. Views of guest commentators do not represent those of TradingPub.com. Article intended for educational purposes only and not meant in anyway as a solicitation to buy or sell certain securities. Please consult your personal financial adviser before using this information for your own trading purposes.